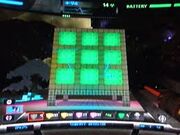 Crystals are found all over Xenos, both above ground, and below. Crystals can be used as a light source, and give off light. The colour of the light matches the colour of the crystal.
Varieties
Edit
There are currently 7 colours of crystals:
Red
Green
Yellow
Cyan
White
Blue
They can all be mined using the P.I.C.K.